Promotions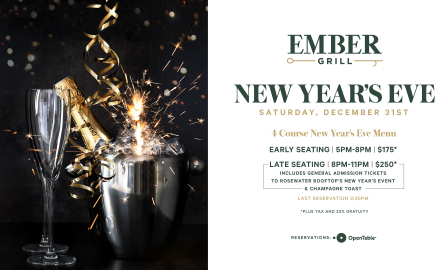 Kick off your New Year's celebration with a succulent 4 course prix fixe festive menu from Chef Vic Casanova. End your 2022 with Ember Grill
Description
Ember Grill is an homage to your favorite neighborhood grill, serving reimagined classics thoughtfully paired with craft cocktails. Renowned Las Vegas Chef Joe Zanelli's menu will delight palates of all kinds, fusing the best sustainable local ingredients from land and sea. Extending the Tropical Modern motif inside the venue, designed by Studio Munge, the carefully curated materials and finishes of Ember, while local to the South Florida environment, define an elevated, one-of-a-kind oasis. The open kitchen, dining room and plush terrace are the perfect spots to enjoy lunch with a colleague, dinner with family, or a post-work drink at the bar.
Highlights
Accepts Credit Cards
Accepts Reservations
Bike Parking
Full Bar
Good for Breakfast
Good for Brunch
Good for Dinner
Good for Groups
Good for Weddings
Happy Hour
Has TV
Meeting Space
Outdoor Seating
Street Parking
Sunday Brunch
Valet Parking
Wheelchair Accessible
Wi-Fi
Happy Hour
Happy Hour at Ember Grill
233 NE 2nd Ave
Join us for happy hour every Monday through Friday from 5pm–6pm for 1/2 off drinks and $7 plates.