Description
Sandoway Discovery Center is located in a historic 1936 beachfront home in Delray Beach, Florida.
The house is on the National Register of Historic Places and preserved as a unique Nature Center now home to native plants, live animals, and a world class shell collection.
The Center offers a glimpse into South Florida's fragile marine and freshwater environments through educational exhibits and programs.
Educational programs are offered to the public at Sandoway including: Shark, Stingray and Alligator Feedings, Guided Historic Tours, Nature Walks, Astronomy Nights and special events such as Earth Day.
We host guest speakers on environmental topics and teach exciting nature programs to all ages! Admission is $5 per-person everyone three years of age and above; Palm Beach Zoo members are free.
Promotions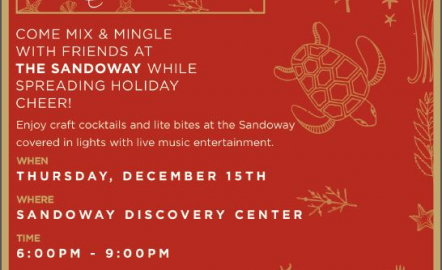 Proceeds Benefit Sandoway
Carols & Cocktails in the Garden
Mix & mingle with friends while spreading holiday cheer. Enjoy craft cocktails & lite bites with live music, 6-9pm, $40 per person
Facebook Feed
Are you all ready for some summer fun! Well that Summer fun will be extra fun now that our awnings are in! Our outdoor classrooms will be shaded, just in time for summer. #OutDoorClassrooms #SummerFun #SandowayDiscoveryCenter #DelrayBeach #Museum #Fun #FunForKids #FunForFamily #Nature #DiscoveryCenter
Thank you to everyone that participated in the beach clean up this past Saturday! We had a little over 200 people participate. We also had a few community partners such as Delivery Dudes, Mike's Sub Shack, Wisetribe and Deck 84 hand out giveaways and coupons to participants. Hundreds of pounds of debris was removed from our beaches. Our next beach clean up is scheduled for September 15th! Hope to see you all then.
Hey everybody, we are in need of old newspaper for lining of some of our animal habitats. If anyone has newspaper they can donate we would greatly appreciate it. Just come by the center during open hours and drop it off. Thank you!
The Sandoway will be closed SUNDAY, APRIL 1st. We will reopen Tuesday the 3rd.