Description
Sandoway Discovery Center is located in a historic 1936 beachfront home in Delray Beach, Florida.
The house is on the National Register of Historic Places and preserved as a unique Nature Center now home to native plants, live animals, and a world class shell collection.
The Center offers a glimpse into South Florida's fragile marine and freshwater environments through educational exhibits and programs.
Educational programs are offered to the public at Sandoway including: Shark, Stingray and Alligator Feedings, Guided Historic Tours, Nature Walks, Astronomy Nights and special events such as Earth Day.
We host guest speakers on environmental topics and teach exciting nature programs to all ages! Admission is $5 per-person everyone three years of age and above; Palm Beach Zoo members are free.
Promotions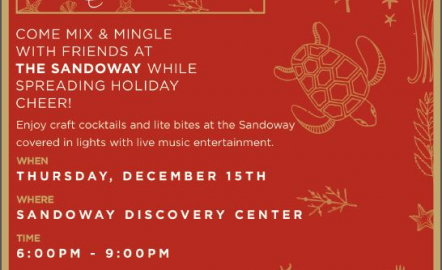 Proceeds Benefit Sandoway
Carols & Cocktails in the Garden
Mix & mingle with friends while spreading holiday cheer. Enjoy craft cocktails & lite bites with live music, 6-9pm, $40 per person
Facebook Feed
Sandoway Discovery Center shared a photo
Hello friends of Sandoway! DID YOU KNOW, with all the construction and limited parking on A1A, the DOWNTOWN TROLLEY now has a route from the old school garage to the Sandoway lot! Also we wanted to remind you that we do have a free parking lot (limited) for guests to the center located on Ingrahm ave. Please no beach or restaurant parking. 🌿🌲🦈
Sandoway Discovery Center shared a link
Thank you!! We had 138 participants and removed around 150 lbs of garbage from our local beaches. It was a very windy day so some of us had to chase our garbage down the beach. Not only did you help our environment but you got a workout as well! Stay Tuned for our next clean up in September! and Please don't forget the great give coming up on May 6th. http://www.yourcommunityfoundation.org/index.cfm?fuseaction=events.details&content_id=1000003
Sandoway Discovery Center shared a status
Happy Saturday at Sandoway come out and enjoy a great day!! We look forward to seeing you soon.