Page 11 - DelrayBeach_GetawayGuidebook_flipbook_2022
P. 11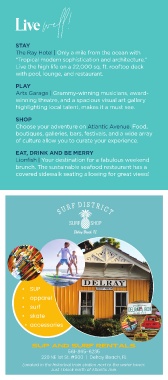 Live well!

STAY
The Ray Hotel | Only a mile from the ocean with
"Tropical modern sophistication and architecture."
Live the high life on a 22,000 sq. ft. rooftop deck
with pool, lounge, and restaurant.
PLAY
Arts Garage | Grammy-winning musicians, award-
winning theatre, and a spacious visual art gallery
highlighting local talent, makes it a must see.
SHOP
Choose your adventure on Atlantic Avenue. Food,
boutiques, galleries, bars, festivals, and a wide array
of culture allow you to curate your experience.
EAT, DRINK AND BE MERRY
Lionfish | Your destination for a fabulous weekend
brunch. The sustainable seafood restaurant has a
covered sidewalk seating allowing for great views!

   ••	 SSUUPP
   ••	 aappppaarreell
   ••	 ssuurrff
   ••	 sskkaattee
     ••	 aacccceessssoorriieess

      SSUUPPAANNDD56S1S-U8U65RR-6F2F3R5REENNTTAALLSS
                220 NE 1st St. 5#6910-806|5-D6e2lr3a5y Beach, FL
                  220 NE 1st St. #900 | Delray Beach, FL
     Located in the historical train station next to the water tower.
       Located in thJeuhsits1tobrlioccakl tnroarinthsotaf tAiotlnannteicxtAtvoet.he water tower.

                            Just 1 block north of Atlantic Ave.