Description
The December 1st First Friday Holiday Art Walk is a perfect way to experience an evening of art, education and relaxation in our award-winning Arts Town, while also getting in the holiday spirit!
This self-guided tour and year-long event invites you to explore the heart & soul of our art scene on the First Friday of every month from 6 - 9 p.m. Enjoy art galleries and working studios while you meet with many of our talented, local artists. Stroll and enjoy beautiful evenings in Downtown Delray as you navigate your way through myriad styles of art. The Art Walk features three artistic areas; Atlantic Avenue, Pineapple Grove and Artists Alley.
This is a FREE event (no ticket, pass, coupon required) - just show up and start wherever you'd like! Don't forget to use #DelrayArtWalk when you share your Art Walk photos on Facebook, Instagram or Twitter!
Participating Galleries & Studios
Pineapple Grove Galleries:
Avant - The 12/1 Art Walk will feature artwork by Tyler Sean. Tyler Sean is a self-taught, 23 year old contemporary pop artist based in South Florida. All of his works are hand-made, employing techniques ranging from collage to huge multi-layer stencils comprised of over 30 individual layers. Tyler got his start drawing hyper-realistic pencil portraiture as a young adult, and has expanded upon this style. 
Tyler builds upon recognizable ideas and people to help deliver his message through nuance, juxtaposition, and irony. He also pays a great deal of attention to aesthetics and originality, demonstrated in both the composition and creative process of his pieces.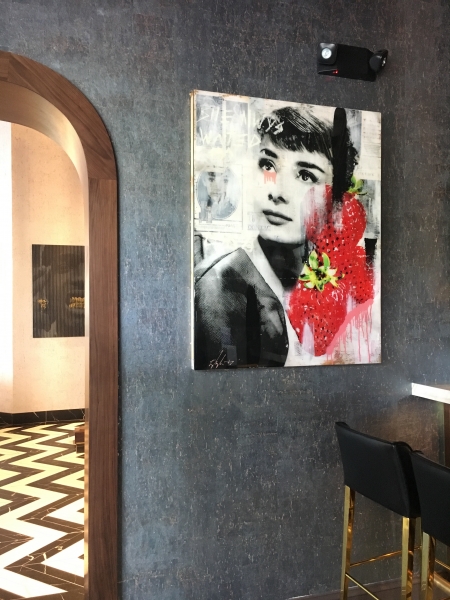 Enjoy 15% off your check at Avant during the 12/1 Art Walk when you show this promotion on your phone. 
Gallery at Studio 5 - 12/1 Art Walk Special: Visit the Gallery at Studio 5 and view all of the latest artwork, estate jewelry and collectibles. Experience a new way of looking at contemporary Art and receive 15% off on all original artwork. Click here to visit Gallery at Studio 5's Facebook page. 
Debra Somerville (NEW) - 12/1 Art Walk feature: Visit my new gallery located at 149D NE 2nd Avenue in Pineapple Grove this Friday for a chance to win a 16 x 20 signed print by artist.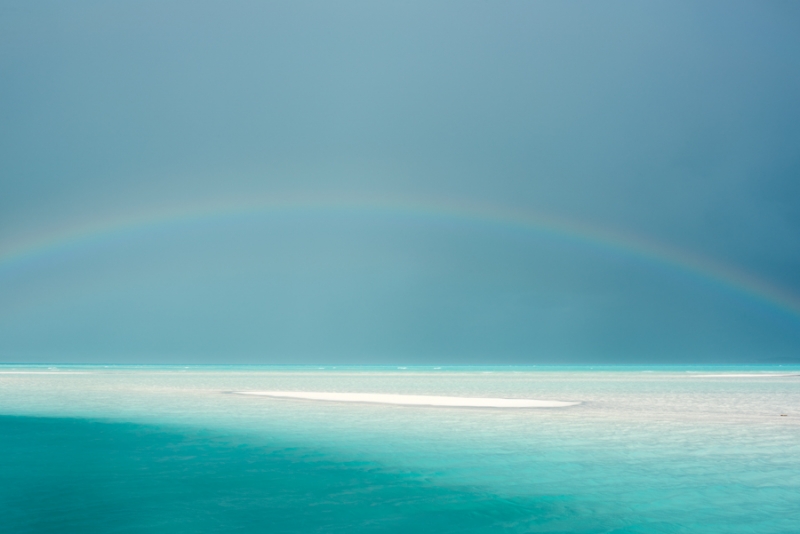 Space of Mind - Open jam session for families and adults in our aweSOMe music studio!  We have instruments and music instructor Hunter Isbell will be on hand for insight and tips. 
The mAe  - 12/1 Art Walk feature: Join us for small sips & bites as we celebrate the holiday season with The Fine Art of Giving with Art. Come find that perfect gift for your loved ones from 6-9 p.m. 
Whitewall Contemporary - 12/1 Art Walk feature:
Wall scupltures by Jane Manus. Show runs through January 3
rd
, 2018. 
Artist Alley Galleries & Working Studios:
Amanda Johnson - 12/1 Art Walk Special. Click here to learn about Amanda Johnson Studio's 12/1 Art Walk feature, "When Darkness Falls, We Look Up."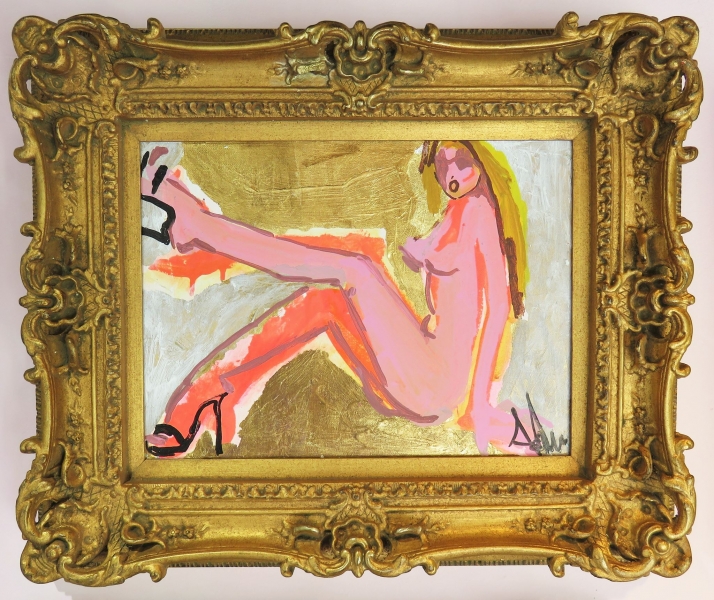 Arts Warehouse (NEW) - Mark your calendars! Arts Warehouse will be OPEN during December's Delray Beach First Friday Art Walk! Join us for a Preview Night & Opening Reception of the inaugural Art Exhibitions at Arts Warehouse. This is the first time that Arts Warehouse is open, so be sure to join us and get a glimpse of the space, studios, and classrooms.
Exhibitions on view December 1st - January 5th
Group Exhibition featuring:
This event is Free and open to all.
*Arts Warehouse will be open for regular business hours beginning Monday December 4th* 
Mon - Fri | 9am - 5pm more hours will be added after the new year.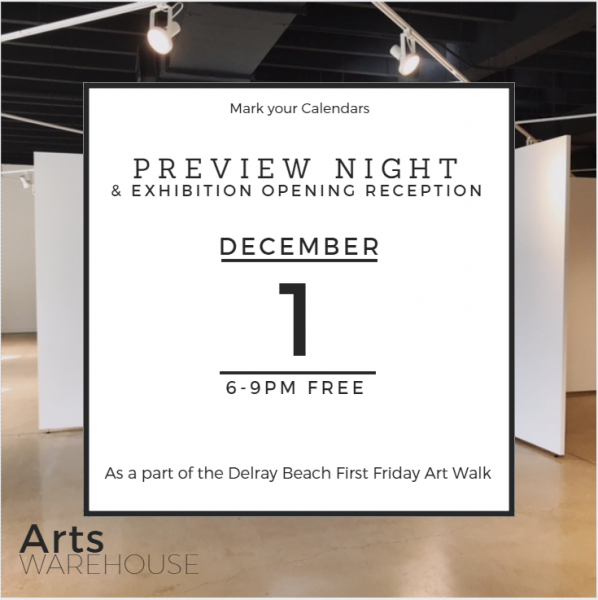 Cacace Fine Art, Inc. - 12/1 Art Walk feature: "Summer Seduction" travel inspuration paintings by Vincent J. Cacace opens at Cacace Fine Art, December 1st from 6-9 p.m. The exhibition includes 20 new paintings of Mexico, New Brunswich and Maine. A calendar of his paintings will be on sale for $20.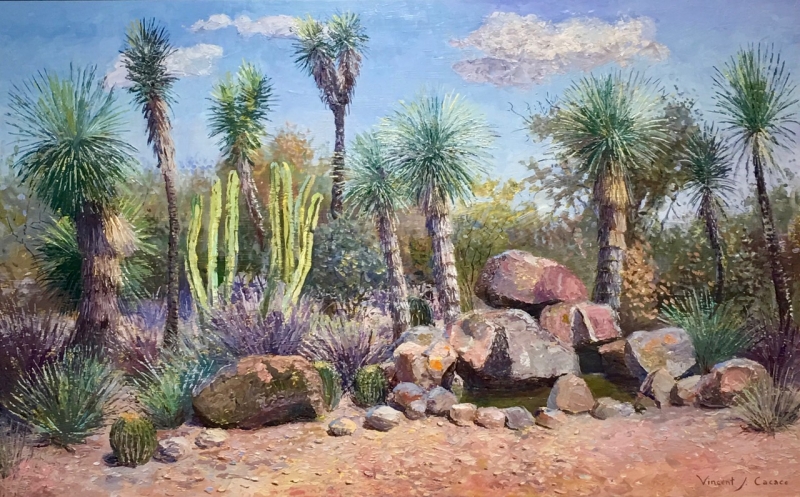 "High Desert", Vincent J. Cacace, oil on canvas, 30" x 48"
Magnus & Gordon Gallery - 12/1 Art Walk Special: Holiday Special - 20% off all original artwork. New Plein Air paintings, sculpture and more. Wine and chocolate to enjoy as you shop for your next masterpiece. Admire & acquire!
Atlantic Avenue Galleries:
Avalon Gallery - 12/1 Art Walk Special: Make it a Happy Hanukkah - stop by Avalon Gallery where you'll find a nice selection of Menorahs and Dreidels handmade by American artists. 
Blue Gallery 12/1 Art Walk feature: Enjoy 15% off art work at both galleries during the Art Walk, 6-9 p.m. Preview the exclusive art collection of original oil paintings and mixed media on paper by Amir Genislaw before the show opens tomorrow. Click here to learn more about the show & artist reception on 12/2.
Cornell Art Museum 12/1 Art Walk feature: Two Art Walk Events on Old School Square Campus! Our campus will be fully activated, so get ready for an art filled evening! Light bites & cash bar available. 
Creative Arts School Expo in the Fieldhouse
Meet our talented art and photography instructors; view live demonstrations; register for classes and workshops; enter raffle giveaways. 
Cornell Art Museum Spotlight Gallery presentes "E.B." Fromkes
A showcase of powerful works by painter and digital artist, Erin "E.B." Fromkes. Meet Erin, whose inspiring personal story has been profiled in WPB Magazine, Huffington Post and Ability Magazine.  Click here to learn more. 
DeBilzan Gallery  - 12/1 Art Walk feature: View the new Mario Hernandez DeBilzan Handbag Collection as well as 20-50% off the old collection.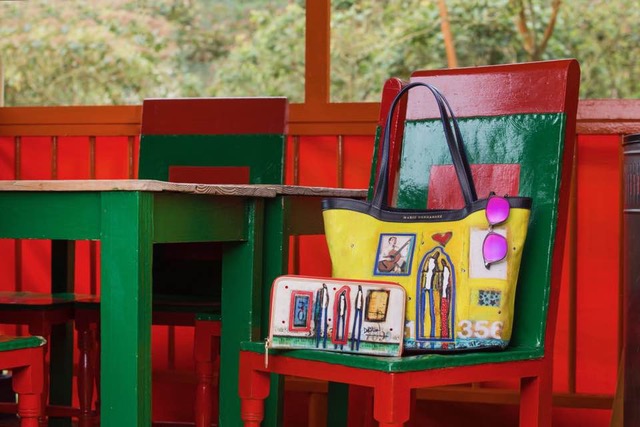 Delray Beach Gallery - 12/1 Art Walk feature: This week we are proud to annouce that we are hosting a "Meet the Artist" weekend with local 17 year old prodigy, Sophia Vigne. Ms. Vigne will be giving live demonstrations within the gallery and showcasing some of her most recent work while speaking about her passion for the fine arts and education. We will have light refereshments and prizes for attendees for this very special weekend. Our event will start December 1st, 7 - 11 p.m. and extend to December 2nd from 7 - 11 p.m. Join us for this wonderful event and experience the work of Sophia Vigne.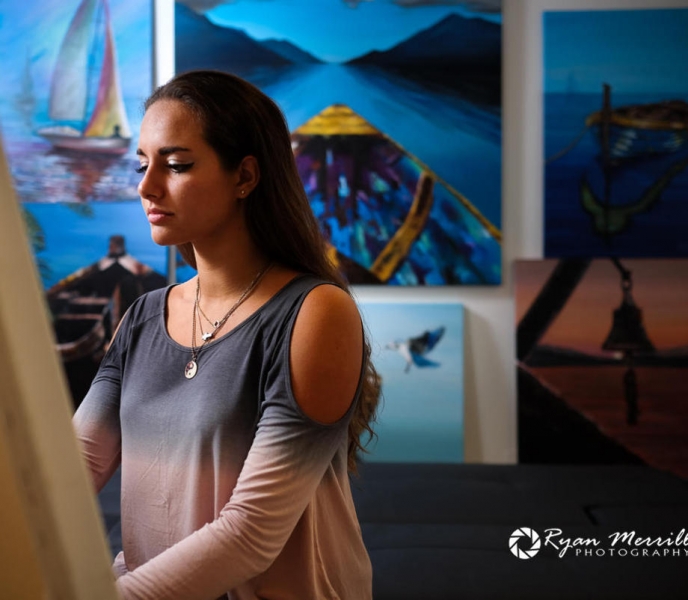 For information on parking, visit: www.downtowndelraybeach.com/parking
*We recommend the Delray Beach Public Library (free parking) or Old School Square Parking Garage for Art Walk parking, located at:
95 N.E. 1st Avenue
Delray Beach, FL 33444
(Next to & above the Greater Delray Beach Chamber of Commerce), parking is free before 4 p.m. and $5 afterward
Downtown Delray Beach (Pineapple Grove, Artists Alley , Atlantic Avenue)
Delray Beach
,
FL
33444