Description
Delray Beach Market is more than a food hall—it's a lifestyle experience, a place to connect, a space for visitors to savor and celebrate the funky vibrance of Delray. Craveable bites, delicious cocktails, visionary art, stylish pop-ups—here, they all collide in unexpectedly delightful ways, creating a destination for relaxed radiance, for getting together, for soaking in the unique, expressive flavor of this quirky-cool beach town.
VENDORS:
CELLAR & PANTRY
CENTRAL BAR
CHINEESE
CHUCK & PATTY'S
COUNTY LINE
DELRAY CRAFT
FERDOS GRILL
FRESHOP
JAMÓN JAMÓN
JOYFUL BLOOMS
LA CASONA PERUVIAN
LICORICE.COM
MAISON BOUCHARD
NOMAD SURF CLUB
ROOTS
SALVO'S
SELPHF
SORELLA'S
TANUKI
THE MEZZ
THE MODERN ROSE
TIP TO TAIL
VOTE FOR PEDRO
Highlights
Accepts Credit Cards
Apple Pay
Bike Parking
Breakfast offered Daily
Delivery
Delivery Dudes
Dogs Allowed
Full Bar
Good for Breakfast
Good for Brunch
Good for Dinner
Good for Groups
Good for Kids
Good for Lunch
Good for Watching Sporting Events
Good for Working
Happy Hour
Has TV
Late Night
Live Entertainment
Meeting Space
Outdoor Seating
Parking Lot
Private Events
Street Parking
Sunday Brunch
Take-out
Valet Parking
Weekend Brunch
Wheelchair Accessible
Wi-Fi
Happy Hour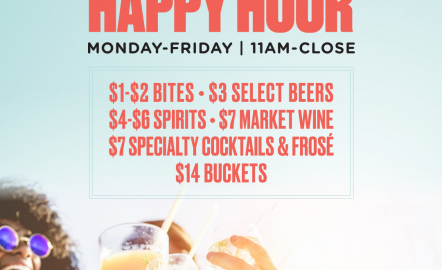 The Delray Beach Market
Happy Hour is Monday - Friday; 11AM - Close. Available at Central Bar, MEZZ Bar & Delray Craft.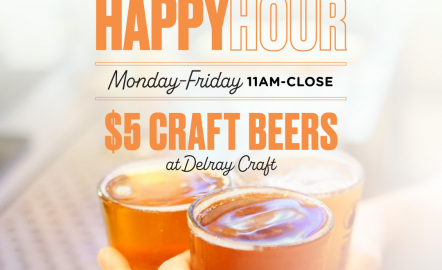 Delray Beach Market - Delray Craft Bar
$5 Craft Beers at Delray Craft. Mon-Friday from 11 AM- Close