Description
As the Delray Beach Market continues its transformation of its newly-reimagined F&B experience, which includes the previously announced Bounce Sporting Club, now comes the addition of Lefkes Estiatorio. Lefkes, a premiere dining and nightlife destination, boasting a modern take on traditional Greek cuisine, will open their first Florida location inside the 150,000 square-foot space, in the heart of downtown Delray Beach. Standing at 4,600 sq ft, Lefkes will take up residence in the south side of the Market and is slated to open in late 2023.
As design on both restaurants has commenced, the Market will endure a temporary construction closure for all changes on January 31, 2023 and looks to reopen in the summer of 2023.
The Market was developed and operated by Menin Development, which revolutionized the neighborhood when it opened as the largest food hall in Florida. The reimagination of the space will expand on the Company's commitment to providing first-in-market experiences, with unique food offerings and entertainment. It also exemplifies Menin's dedication to embracing change based on the feedback of its guests and community and understanding how industry
trends and COVID-19's impact to the F&B industry can sometimes require a forward-thinking company to reevaluate the game plan.
"Delray Beach has always been such a celebrated home for destination dining and entertainment. We are so thankful for our vendors and community as they brought Delray Beach Market to life," said Craig Menin, CEO of Menin Development. "However, as we've had to look at where we started from and where we are today, we're making decisions that aren't easy in one respect, but in the other, we hope to create a unique and exciting experience for our guests, while continuing the opportunity we've been given for community growth and gathering."
The reimagination of the space came with several challenges faced at the onset of COVID-19, which has carried through to present day. The notable increase in food and labor costs have made it extremely difficult for small businesses, our vendors, to survive in such a climate. As these small businesses will pivot moving forward, The Delray Beach Market will do the same, adapting to the new trends and experiences in the F&B space.
"We are proud to say we've played a pivotal role in growing the culinary scene here in Downtown Delray Beach," said Jordana Jarjura, President & General Counsel of Menin Development. "And though we accomplished so much despite the pandemic, it was the F&B industry – most significantly small businesses and fast-casual restaurants, that could not sustain the increased food and labor costs, following the brutal global shut down. We have had to pivot from our original goal of being a mom-and-pop food incubator to finding a delicate balance between small businesses and seasoned restauranteurs. The reimagination of the Market space furthers our commitment to bring new and exciting experiences to Delray's downtown scene, and we look forward to announcing the next hospitality experience we will be bringing to this space in the coming months."
ABOUT LEFKES ESTIATORIO
Lefkes emerges from Lefkes Santorini and Athens taking guests on a Mediterranean journey of flavors, offering a uniquely diverse cuisine. Inspired by traditional Greek classics combined with a modern twist, Lefkes offers the finest cuisine sourced from top purveyors and local farms. Lefkes transforms from a daily fine dining restaurant to an exclusive day and nightlife destination featuring top DJs and entertainment. Lefkes brings the energy of Mykonos to any location and will do the same in Delray Beach.
For more information, please contact tara@menin.com.
ABOUT DELRAY BEACH MARKET
Delray Beach Market, located at 33 SE Third Avenue in the heart of downtown Delray Beach, Florida, standing at 150,000 square feet, is a central community entertainment hub, offering a taste and unique experience for everyone. DBM is home to Bounce Sporting Club as well as additional concepts opening in 2023 and 2024. Learn more by
visiting www.delraybeachmarket.com.
ABOUT MENIN DEVELOPMENT
Founded in 1985 in New York City and headquartered in Delray Beach, Florida, Menin has acquired, developed, and remodeled, in excess of $1.5 billion of property in South Florida, Phoenix, New Orleans and throughout the Mid-Atlantic and Southeast. Menin provides acquisition, development, redevelopment, leasing and property management services for 'Class A' retail, office and mixed-use properties across the United States. Presently, Menin owns, manages, and is in development of more than $750 million of commercial real estate. Current development is focused on urban commercial, hospitality, mixed-use, and multi-family projects in South Florida, along with single-tenant acquisitions in upscale markets nationally. Learn more by visiting Menin.com.
Highlights
Accepts Credit Cards
Apple Pay
Bike Parking
Breakfast offered Daily
Delivery
Delivery Dudes
Dogs Allowed
Full Bar
Good for Breakfast
Good for Brunch
Good for Dinner
Good for Groups
Good for Kids
Good for Lunch
Good for Watching Sporting Events
Good for Working
Happy Hour
Has TV
Late Night
Live Entertainment
Meeting Space
Outdoor Seating
Parking Lot
Private Events
Street Parking
Sunday Brunch
Take-out
Valet Parking
Weekend Brunch
Wheelchair Accessible
Wi-Fi
Happy Hour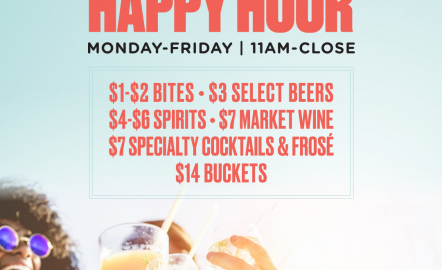 The Delray Beach Market
Happy Hour is Monday - Friday; 11AM - Close. Available at Central Bar, MEZZ Bar & Delray Craft.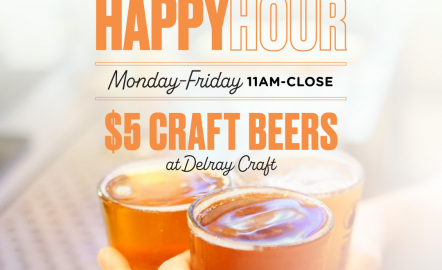 Delray Beach Market - Delray Craft Bar
$5 Craft Beers at Delray Craft. Mon-Friday from 11 AM- Close