Description
Hours
M-F 12 PM - 12 AM | SA-SU 12 PM - 12 AM
Happiest Hour on Earth M-F 3p-6p
Live Music7 Days a week at Johnnie Brown's!
Enjoy entertainment :
Monday - 7 PM - 11 PM
Tuesday - Thursday: 8 PM - 12 AM
Friday: 4 PM - 7 PM, 8:30 PM - 1:30 AM
Saturday: 12 PM - 3 PM, 4 PM - 7 PM, 8:30 PM - 1:30 AM
Sunday: Trivia 1 PM - 3 PM, Music 3:30 - 6 PM & 7 PM - 11 PM
Pick-up and Delivery available.
________________________
Open restaurant venue with burgers, wings, ribs and more...plus cold beers, delicious cocktails, great service and daily live rock performances. Hope to see you soon!
Highlights
Accepts Credit Cards
Full Bar
Good for Groups
Good for Watching Sporting Events
Happy Hour
Live Entertainment
Outdoor Seating
Valet Parking
Happy Hour
Happiest Hour on Earth M-F 3p - 6p
301 E Atlantic Ave.
Drinks starting at $4 Food starting at $8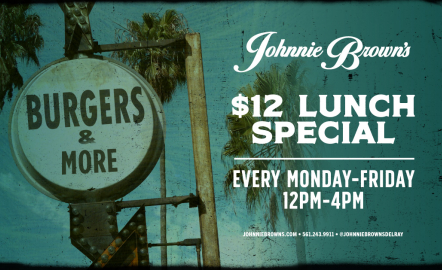 CHOSE FROMA VARITY OF JOHNNIE BROWN'S FAVORITE ITEMS FOR ONLY $12 EVERY MONDAY THROUGH FRIDAY FROM 12 PM - 4 PM
Entertainment
Wed, 01/01/2020
to
Tue, 12/31/2024
Johnnie Brown's
Live music at Johnnie Brown's 7 days a week. Happiest Hour on Earth 4pm - 7pm every Monday - Friday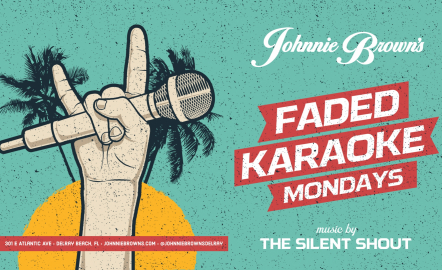 Faded Karaoke, Live Band Karaoke Mondays
Wed, 08/12/2020
to
Sat, 12/31/2022
301 E Atlantic Ave.
Join us every Monday at 6 PM for Faded Karaoke, Guests are invited to join a full band on the Johnnie Brown's stage live!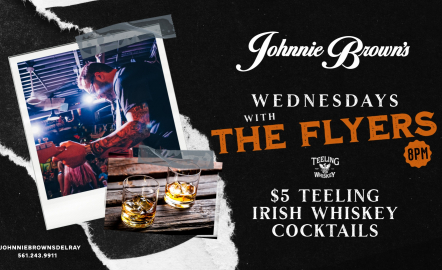 The Flyer Every Wednesday
Wed, 12/01/2021
to
Sun, 12/01/2024
301 E Atlantic Ave
South Florida's favorite rock band The Flyers, live every Wednesday night at 8 PM and $5 Teeling Whisky cocktails all day and all night.