Description
Sandoway Discovery Center is located in a historic 1936 beachfront home in Delray Beach, Florida.
The house is on the National Register of Historic Places and preserved as a unique Nature Center now home to native plants, live animals, and a world class shell collection.
The Center offers a glimpse into South Florida's fragile marine and freshwater environments through educational exhibits and programs.
Educational programs are offered to the public at Sandoway including: Shark, Stingray and Alligator Feedings, Guided Historic Tours, Nature Walks, Astronomy Nights and special events such as Earth Day.
We host guest speakers on environmental topics and teach exciting nature programs to all ages! Admission is $5 per-person everyone three years of age and above; Palm Beach Zoo members are free.
Promotions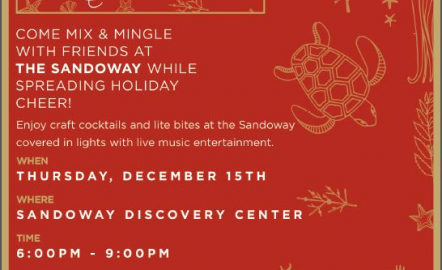 Proceeds Benefit Sandoway
Carols & Cocktails in the Garden
Mix & mingle with friends while spreading holiday cheer. Enjoy craft cocktails & lite bites with live music, 6-9pm, $40 per person
Facebook Feed
JOB OPENING! Sandoway Discovery Center is looking for a full time Naturalist position. Candidate must have a least a Bachelors in biology/related field or equivalent work experience. Public speaking ability is a must. If interested please contact the center at (561) 274-7263 or email sandowayhouse@bellsouth.net
Happy #SnakeSaturday!! 🐍💚 Have you met the newest addition to the Sandoway family yet? This is our baby BALL PYTHON, who's yet to be named. Did you know the ball python is the smallest and most docile of all the python species? This cutie likes to snuggle up in the palm of our hand! Stop in this weekend to see him and give us a name suggestion!! 😍
A huge thank you to the local team from Orchard Supply Hardware for donating time and effort to make our butterfly garden and grounds bueatiful. What a great team of dedicated people helping out their community neighbors! Can't wait for the Delray store to open.. #nature #sandowaydiscoverycenter #orchardsupply #delraybeach #neighborshelpingneighbors #garden
Tiny Tots Storytime at Sandoway Discovery Center Wednesdays @ 11am-11:30am Does your little one love nature? Come visit Sandoway for our Tiny Tots Storytime! Listen to animal adventures and meet some of our resident critters up close. Schedule subject to change due to staffing. Please call for availability 561-274-7263. Price: Free Ages: 0-4 Max Participants: 10 Length: 30min
Enjoy Stingray Feeding Every Tuesday through Sunday at 2:45pm Join us daily to watch our Bat and Cownose Rays eat their lunch! Find out what type of food stingrays eat, learn about their behavior and characteristics and even get to touch one! Admission into the center is $5.00 per person ages 3 and up. The stingray feeding is included with admission. For more information call 561-274-SAND (7263).
Jr. Shark Biologist Every Wednesday and Sunday Time: 3:15pm Have you ever wanted to be a marine biologist working with sharks? This program gives kids just that. Designed as a mock shark study, students will be given the task of collecting, examining their "sharks", recording data and tagging. Emphasis will be placed on real life techniques that researchers use to study these amazing animals. For reservations please call 561-274- SAND (7263).
#Alligator Feeding Every Wednesday and Saturday Join us every Wednesday and Saturday at 1pm to listen to a short talk on alligators and watch our resident alligator feed on his favorite food! Admission into the center is $5.00 per person ages 3 and up. The alligator feeding is included with admission. For more information call 561-274-SAND (7263).
#Shark Feeding Tuesday-Saturday at 10:30am and Sundays at 1:30pm Come join us for a splashing good time! Sandoway hosts a daily shark feeding, in the centers 15,000 gallon shark tank. Learn lots of fun and interesting facts about the oceans top predator! Admission is $5.00 per person ages 3 and up. The shark feeding is included with admission. Price: Free Ages: all ages