Description
The Silverball Retro Arcade - Entertainment, Bar & Museum is the hottest thing in Delray Beach, Florida. With classic pinball and arcade games to play, great food to eat, cool drinks to enjoy and fun events to take part in – Silverball Museum has all of the above, and then some.
Want to enjoy a quick, delicious lunch? Silverball is the place. Want to have fun playing some classic pinball and arcade games?… again Silverball is your go-to place. Drinks afterwork? Silverball has you covered.
We are also a great venue for birthday parties, reunions, weddings, corporate events, fundraisers and just about anything you can think of. Just call our friendly staff and we'll get you all hooked up.
___________________________________________
Pinball machine arcade, restaurant & bar in Downtown Delray Beach. Enjoy vintage pinball machines, skee ball, shuffleboard and much more!
Highlights
Accepts Credit Cards
Delivery Dudes
Full Bar
Good for Dinner
Good for Kids
Good for Lunch
Good for Watching Sporting Events
Happy Hour
Has TV
Late Night
Live Entertainment
Parking Lot
Private Events
Street Parking
Wi-Fi
Happy Hour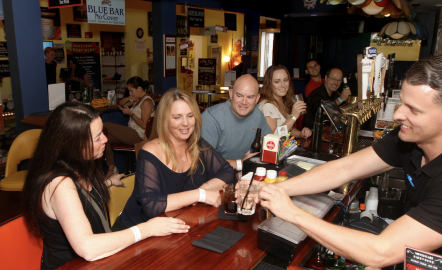 Silverball Bar
$3.50 select beers and $5.50 well drinks, house wine and bar snacks.