One of the best things about our "Village by the Sea" is that it's easy to walk around downtown after parking your car, golf cart or bicycle. Downtown offers free and paid parking throughout. 
ANY QUESTIONS OR CONCERNS PLEASE CONTACT:
PARK DELRAY BEACH OFFICE
561-265-2100
Parking Program Official Website:
https://www.delraybeachfl.gov/parking
How to Park in Downtown Delray:
Below is a list of the public parking areas where you can find free and metered parking options. 
FREE PARKING: Note time limits on free parking (There is also free parking on some side streets throughout downtown)
P6: Veterans Park Lot • 802 NE 1st St.
P7: Gladiola Lot • 51 SE 6th Ave.
P8: Village Lot • 50 SE 6th Ave.=
P10: Railroad Lot • 25 NE 3rd Ave.
P11: Cason Cottage Lot • 5 NE 1st St.
P12: Monterey House Lot • 37 NW 1st Ave.
P13: Bankers Row Lot • 200 NE 1st Ave.
P14: City Hall Lot • 100 NW 1st Ave.
P15: Tennis Center Lot • 201 W. Atlantic Ave.
P16: Frog Alley Lot • 250 SW 4th Ave.
P17: The Sands Lot • 116 NW 5th Ave.
P18: Court House Garage / Library Lot • 100 W Atlantic Ave.
**Those with proper handicapped tags get free parking for up to 4 hours in any public parking space**
METERED PARKING:
East Atlantic Avenue from Swinton Avenue to the Intracoastal: $4/hr • 3 hour time limit • Free before 12pm every day and after 9pm Sun - Thurs, after 2am Fri & Sat 
East Atlantic Ave from Intracoastal to A1A: $4/hr • 3 hour time limit • Free before 8am and after 8pm
Along the beach on A1A: $3/hr • 3 hour time limit • Free before 8am and after 8pm 
Side Streets and Parking Lots: $2/hr • time limits vary
P1: Ingraham Lot • Ingraham Ave
P2: Sandoway Lot • 142 S Ocean Blvd.
P3: Orange Grove Lot • N Ocean Blvd.
P4: Anchor Park Lot • 340 S Ocean Blvd.
P5: Gleason Street Lot • 82 Gleason St.
PUBLIC PARKING GARAGES: $5 flat rate • 14-hour max time limit (Free before 4pm and on Sundays):
P9: 4th & 5th Delray Garage • 25 SE 4th Ave.
P19: Robert Federspiel Garage • 22 SE 1st Ave. 
P20: Old School Square Garage • 95 NE 1st Ave.
PRIVATE PARKING GARAGES: Mon - Thurs: $3.50/hr with $28 daily max • Fri - Sun: $4.50/hr with $36 daily max 
P21: Delray Beach Market Garage • Enter on SE 1st St 
HOW TO PAY FOR PARKING: 
Pay by phone: 
Download the free ParkMobile app on your smartphone, register your license plate number, enter the zone number and follow steps to pay.
Pay-by-plate:
Locate the closest parking kiosk, enter your license plate number and follow steps to pay.
*A 20-minute free parking option is available for downtown on-street parking. Just choose 20 minutes in zone 3173 in your Parkmobile app, or at the parking kiosk choose option 1 and enter your license plate number.
PARKING PERMITS AVAILABLE FOR DELRAY BEACH RESIDENTS: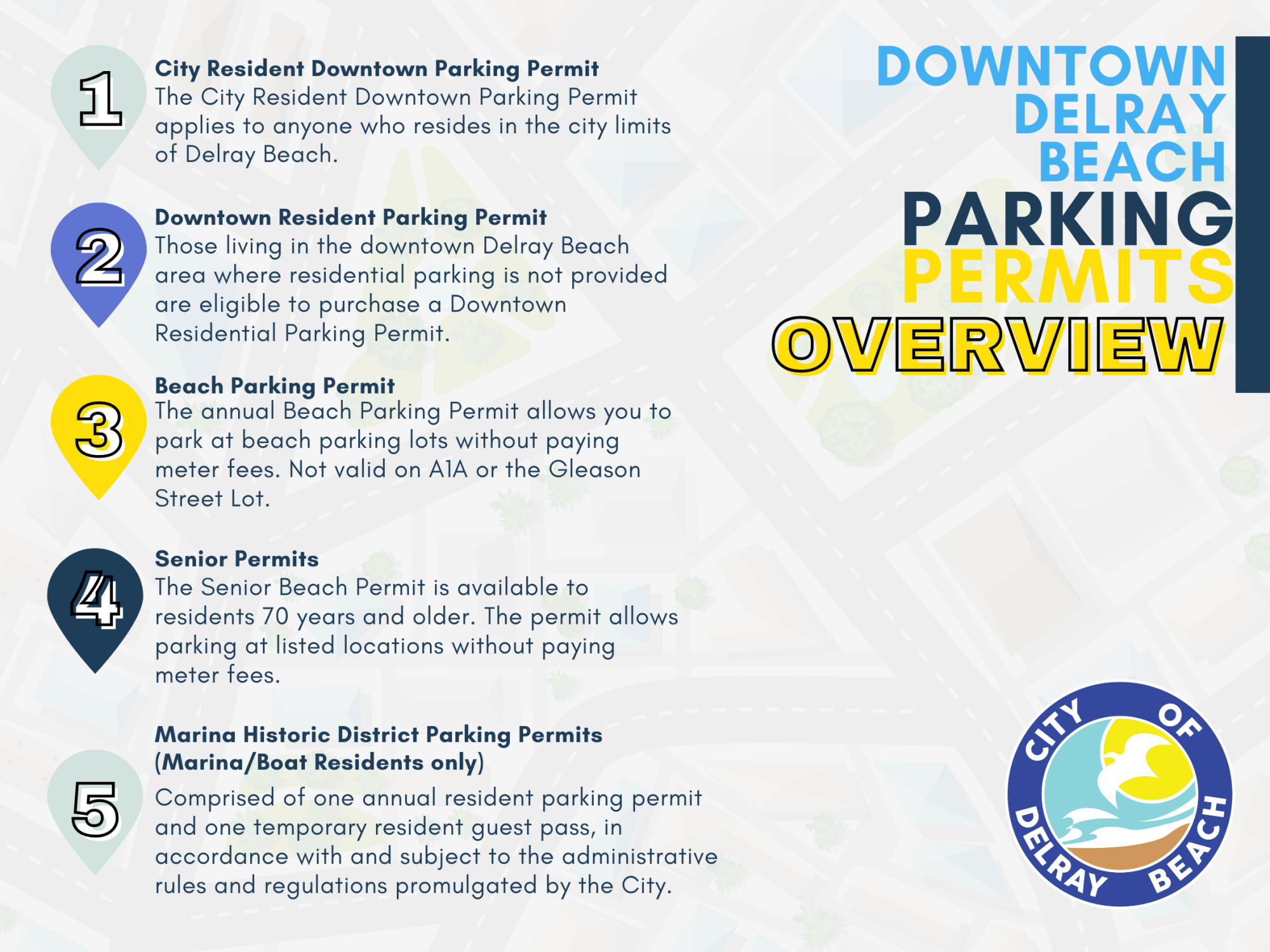 Click here for more information:  www.delraybeachfl.gov 
Parking Lots: Scroll down or view the map for full list of city parking lots throughout Downtown Delray Beach.