Downtown Delray Beach Businesses are there for you and they are creating opportunities for you to be there for others!
As our businesses adjust to this turbulent time, many are trying to find ways to help others - read on to see customer service at its highest level.
Below are downtown businesses that are putting their efforts towards helping those on the front lines and those in need. They invite you to join them with your donations! If you are a Downtown Delray Beach business also fighting the good fight contact us at dda@downtowndelraybeach.com so we can get the word out there and band together during this unprecedented time!
FIRST RESPONDER  DEALS and CHARITY EFFORTS
CAFFE LUNA ROSA  15% off all Purchases for First Responders and Healthcare (Not valid with other discounts, offers or special packages) 
GARYS RACK'S FARMHOUSE KITCHEN  Offering 20% off all food items for first responders.
PAPAS TAPAS  Offering 25% off to first responders. In addition, they have been running a donation effort to provide FREE meals to first responders. If you donate $10, a meal goes to a worker on the front lines:  call for details! 561-266-0599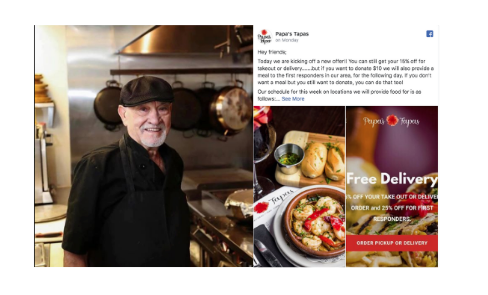 RAMEN LAB EATERY  50% off checks with a valid I.D. for first responders.
In addition, customers can purchase a meal for a first responder.  When you buy a donation meal, Ramen Lab will match and donate an additional meal. Contact store for details.
LEMONGRASS ASIAN BISTRO  50% off checks with a valid I.D. for first responders.
In addition, customers can purchase a meal for a first responder.  When you buy a donation meal, Lemongrass will match and donate an additional meal. Contact store for details.
TIN ROOF "First Responder Fridays"  Each Friday, Tin Roof will be donating meals to first responders based on sales from the prior week.  Support local and donate by ordering take out from Tin Roof throughout the week. 
HOPPORTUNITIES Inspired by @eatpalmbeach's #savepbfood intiative, Hopportunties decided to donate what they thought would be much appreciated by first responders - CAFFEINE!  What started as one keg of coffee being donated to the night shift at a medical center, turned into 4 more coffee kegs being donated on separate occasions.  All of these donations happened organically through people and organizations who loved this cause.  If you are interested in helping donatE coffee to first responders, contact Hopportunties: @hopportuntiesfl
TWO FAT COOKIES/BREGGFAST    Locals have been calling in catering orders to donate to first responders for breakfast.  If would like to host breakfast for first responders one morning, contact Two Fat Cookies.  Two Fat Cookies has also donated pastries to Hopportunities for their efforts to caffeinate first responders on the night shift.  We love seeing our businesses come together! 
REAL CONNECTIONS SOFLA  FULL online subscription for $20 (normally $50)
ALOFT  Rates starting from $79 per night, grab & GO breakfast, FREE self parking and WiFi
HYATT PLACE  $79 plus tax rate for all first responders.
CHARITY EFFORTS
AMANDA PERNA BUY A MASK, GIVE A MASK
Local Designer, Amanda Perna (brand: House of Perna) is creating masks for those who need them. Buy yourself, a loved one, a first responder or anyone you know who might need one and one gets donated to first responders and those on the front lines! She also has created a sewing pattern so you can sew masks at home and take part in this wonderful cause. As well, she is taking donations to buy more fabric. Head to The House of Perna website for more information!

HELPING HANDS (H3)
Hospitality Helping Hands (H3) is a recently organized network of three established Delray not-for-profits (Living Hungry, the Delray Beach Homelessness Task Force, WiseTribe) and two established restaurants, Dada and Subculture Coffee. Together they are cutting through the complexity of closed schools, social distancing, job loss, and disrupted supply chains to deliver food to those most in need.
The concept is simple. Restaurants and not-for-profits band together to establish community kitchens to produce and distribute healthy, nutritious meals to children, the elderly and the needy and at the same time provide some limited employment to our suffering restaurant colleagues. We are striving to take the fear of "where do I get my next meal" away from everyone who is suffering emotionally and financially.
 DETAILS FOR WARM HEARTY MEALS from Restaurant Chefs To-Go to You:
DADA is working with H3 to serve meals daily 
"Come get a warm meal" - Anyone can go through the drive-through and get a Free Meal Monday- Friday 1:00-6:00 PM @ Dada Restaurant, Drive Through, up to 10 meals per car
 Dada Large Group Meals (50-150) Pick Ups @ Dada Restaurant  - Pick up by Appointments (RSVP Maura @ 561-400-2712), Monday- Friday 1:00-6:00 PM @ Dada Restaurant, "Charity Pick-Ups" Parking Spots. We start at 250 meals today and will build up to 1,000 meals a day. 
Cason Methodist - HQ for Living Hungry H3 small group meal pickups and drive through Mon-Friday 1:30-2:30 PM 
Groceries for You To-Go to You:   
A Free Set of Groceries with Farm Fresh produce and goodies you need to stay healthy, which you want to eat! Drive through pickups Saturday at Dada, Time TBD.
PAST PROMOTIONS THAT WE ARE PROUD OF!
 RESTAURANTS FEEDING SENIORS
From March 18th—20th, downtown Delray Beach restaurants: Prime Delray, Pizza Rustica, Tin Roof, The Office Delray, Sazio Express, Two Fat Cookies, Caffe Luna Rosa and Rose's Daughter donated 300 meals to homebound seniors who normally visit Pompey Park and Veterans Park Monday through Friday for complimentary lunch. With the newly implemented social distancing requirements due to the Coronavirus (COVID-19), these complementary lunches were put on hold. These restaurants stepped up and all meals were delivered by Delray Beach's Freebee cart and the City of Delray Beach Parks and Recreation department assisted with the delivery of meals to 100 homebound seniors. 
Thank you to the restaurants donating 100 meals a day for our local seniors!
DEATH OR GLORY BAR
Hospitality Industry Meal Giveaway on 3/27
"To our industry family, we have a special care package headed your way. This Friday (3.27) we are giving away 2 Paper Planes, 1 appetizer and an entree for two. Vegetarian options also available, offer is valid while supplies last. #paperplanetogo"
See the Death or Glory Bar Instagram account for more details