Delray Beach, FL (February 2017)…The Delray Beach Downtown Development Authority (DDA) has launched a new initiative to further enhance its Placemaking goal of fostering a compelling destination by enhancing the physical elements of the downtown, and its strategy to maintain a clean, safe and welcoming environment.  The Downtown Delray Beach Security Ambassador Pilot Program debuted on February 6, 2017.  In partnership and with direction from the City of Delray Police Department and the Downtown Manager, two ambassadors in bright yellow shirts will be on foot and bike from 6am – 11pm Sunday through Wednesday and 6am – 1am from Thursday to Saturday.  They will patrol from NW/SW 5th avenue east on Atlantic Avenue to the Intracoastal Bridge, and one block on either side of Atlantic Avenue from Swinton Avenue to the Intracoastal Bridge.    
 "The DDA has been working closely with the City of Delray Beach Clean and Safe team and Community Improvement Department to find ways to assist with the quality of life issues that are affecting the Downtown/DDA District," said Laura Simon, Executive Director, Delray Beach DDA. "I had learned about the Ambassador Program through the West Palm Beach DDA and met with them on numerous occasions to review the program and the successes that it has brought to their city over the years.  The DDA Board recommended that it would fund and conduct the $50,150, 12-week Pilot/test program, and to hire Professional Security Consultants – the same organization providing Downtown Ambassadors for the West Palm Beach DDA, as well as City Place, Downtown Fort Lauderdale and Pompano Beach."
The role of the Ambassadors is to be a constant "security type presence with a hospitality side", providing customer service support such as giving directions and information about Downtown to the public, Safe Walk services for employees or customers,  and serving as the extra set of eyes and ears for safety, lighting, banners, trash, etc. The Ambassadors will have cell phone contact with the Police Department and businesses, and will be on radio with the Clean and Safe Sergeant and the DDA team.
They will work directly with the Police Department and Clean and Safe team to monitor areas within the Downtown with an aim of deterring criminal activity or disruptive street behavior, and addressing quality of life issues such as homelessness, panhandling, loitering, disturbances in front of businesses, and assisting the Police Department with any issues as needed such as traffic accidents. In addition, the Ambassadors will work closely with the Downtown business owners and employees to share information and educate the community on how to effectively handle panhandling situations or any other related needs.
The Pilot Program Goals include increasing the perception of safety and enhancing the quality of life within the Downtown Area by addressing issues, and adding support for the Downtown Clean and Safe unit.  "We are hopeful that this program will truly help the Downtown Delray teams in their efforts, and be an asset to those who live, work and play in the DDA district, " said Simon. 
We need your feedback on the pilot program. Please let us know if you'd like to see the program continue:
If you are a Downtown resident, property owner, business owner or visitor, send a letter or email about this pilot program to: DDA@DowntownDelrayBeach.com and/or CLICK HERE to take the Downtown Ambassador SURVEY.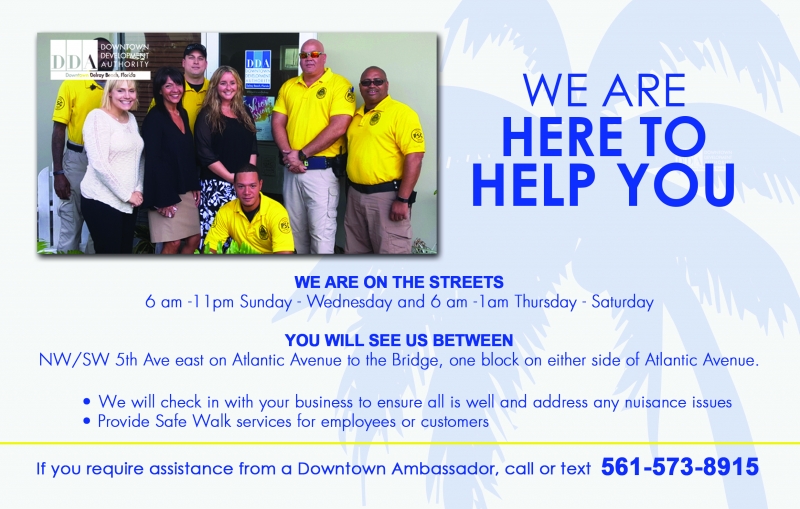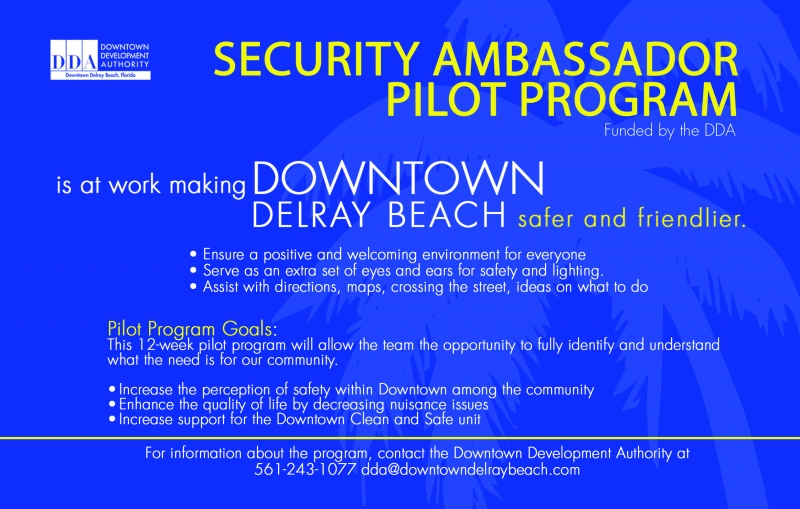 For more information, please contact:  DDA@DowntownDelrayBeach.com or 561.243.1077.
###
About the Delray Beach Downtown Development Authority
The Delray Beach Downtown Development Authority mission is to enhance and stimulate balanced economic growth through position marketing activities that engage Downtown Businesses, residents and visitors, while creating a clean, safe, physical and experiential place to live, work and invest.  For more information, please visit www.downtowndelraybeach.com or phone 561.243.1077.
Media Contact: Sarah E. Flynn - Willcaro Communications LLC  
561.866.5064 - sarahf@willcarocomm.com