Page 10 - AnnualReport-17.18_v10_sf_18
P. 10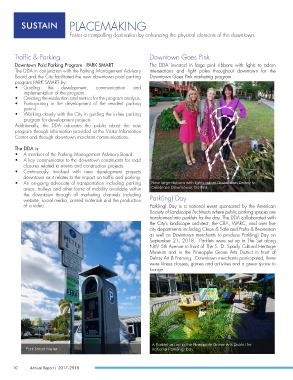 SUSTAIN  PLACEMAKING

         Foster a compelling destination by enhancing the physical elements of the downtown.

Traffic & Parking                                                  Downtown Goes Pink

Downtown Paid Parking Program - PARK SMART                         The DDA invested in large pink ribbons with lights to adorn
The DDA in conjunction with the Parking Management Advisory        intersections and light poles throughout downtown for the
Board and the City facilitated the new downtown paid parking       Downtown Goes Pink marketing program.
program PARK SMART by:
•	 Guiding the development, communication and                       New large ribbons with lights adorn Downtown Delray to
                                                                    celebrate Downtowns Go Pink
     implementation of the program.
•	 Creating the evaluation and metrics for the program analysis.   Park(ing) Day
•	 Participating in the development of the resident parking
                                                                   Park(ing) Day is a national event sponsored by the American
     permit.                                                       Society of Landscape Architects where public parking spaces are
•	 Working closely with the City in guiding the in-lieu parking    transformed into parklets for the day. The DDA collaborated with
                                                                   the City's landscape architect, the CRA, WARC, and over five
     program for development projects.                             city departments including Clean & Safe and Parks & Recreation
Additionally, the DDA educates the public about the new            as well as Downtown merchants to produce Park(ing) Day on
program through information provided at the Visitor Information    September 21, 2018. Parklets were set up in The Set along
Center and through downtown merchant communications.               NW 5th Avenue in front of The S. D. Spady Cultural Heritage
                                                                   Museum and in the Pineapple Grove Arts District in front of
The DDA is:                                                        Delray Art & Framing. Downtown merchants participated, there
•	 A member of the Parking Management Advisory Board.              were fitness classes, games and activities and a green space to
•	 A key communicator to the downtown constituents for road        lounge.

     closures related to events and construction projects.
•	 Continuously involved with new development projects

     downtown as it relates to the impact on traffic and parking.
•	 An on-going advocate of transportation including parking

     areas, trolleys and other forms of mobility available within
     the downtown through all marketing channels including
     website, social media, printed materials and the production
     of a video.

          Park Smart Meter                                         A Parklet set up in the Pineapple Grove Arts District for
10 Annual Report | 2017–2018                                       national Park(ing) Day.