PRESS RELEASE
For Immediate Release
October 20, 2017
More Delray Beach Businesses Join Downtowns Go Pink for Breast Cancer!
West Palm Beach, Fla.– On October 26, 2017, Delray Beach will be one of three South Florida cities to host the first ever "Downtowns Go Pink" in support of Susan G. Komen South Florida® and National Breast Cancer Awareness Month. Pink lights, compliments of the Delray Beach Downtown Development Authority, will adorn trees and lightpoles on Atlantic Avenue and in Pineapple Grove, and businesses throughout Downtown including The Colony Hotel, Caspian, Old School Square and the Hyatt Place will be accented with pink lighting.
Restaurants and stores are offering special discounts and items, gifts with purchase, and a portion of sales support Komen's local life-saving breast cancer programs and research to find a cure.  A sidewalk sale on the same day gives shoppers all the more reason to visit Downtown Delray Beach.
Komen has partnered with Delray Beach's Downtown Development Authority to engage a variety of establishments and offer shoppers and diners a fun day or evening out on the town, and the list keeps growing!  Establishments and offers include:
Avalon Gallery—10% of each sale donated to Komen
Blings and Things—10% of each sale donated to Komen
Caffé Luna Rosa—10% of the day's sales, and bartender Tanja, a breast cancer survivor, will also donate a portion of her tips
C. Orrico—10% of each sale donated to Komen
DeBilzan Gallery—5% - 10% on special selection of products and paintings
Hand's Office & Art Supply—10% of each sale donated to Komen
Hyatt Place—10% of Lobby Bar proceeds, four pink drink specials, and hotel guests will also have the opportunity to donate $5 and get a ribbon that they can place on their doors. 
Margaux Riviera—10% of each sale donated to Komen
Morley—10% of each sale donated to Komen
Periwinkle—10% of each sale donated to Komen
Sara Campbell—10% of each sale donated to Komen
Sequin—Gift with purchase of $38+ and 10% of each sale donated to Komen
Taverna Opa—10% of the day's sales
In addition, Cut 432 has made a generous donation to support Komen South Florida. 
More stores and restaurants are joining every day. For the latest information about participating businesses, visit www.DowntownDelrayBeach.com/or to learn more about Downtowns Go Pink in West Palm Beach and Stuart, visit www.komensouthflorida.org/events/gopink or email info@komensouthflorida.org.
While in Delray Beach, Komen encourages a visit to the Spady Cultural Heritage Museum to see "Shades of Pink," an exhibit by photographer Michiko Kurisu featuring the personal journeys of nine local African-American women. The exhibit runs October 19th through November 11th and is a joint project among Susan G. Komen® South Florida, the West Palm Beach, FL Chapter of The Links, Incorporated and The Spady Museum.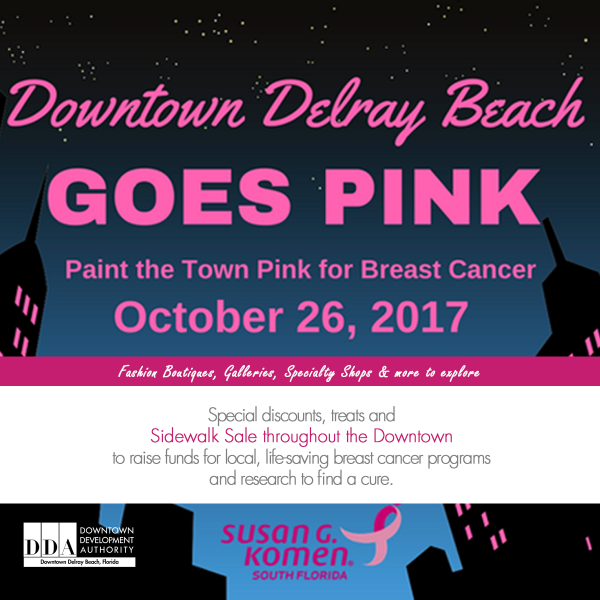 About Susan G. Komen and Komen South Florida
Susan G. Komen is the world's largest breast cancer organization, funding more breast cancer research than any other nonprofit while providing real-time help to those facing the disease. Komen was founded by Nancy G. Brinker, who promised her sister, Susan G. Komen, that she would end the disease that claimed Suzy's life. Komen South Florida is working to better the lives of those facing breast cancer in the local community. Through events like the Komen South Florida Race for the Cure®, Komen South Florida has invested over $14 million in community breast health programs in Palm Beach, Martin, and St. Lucie counties and has helped contribute to the more than $920 million invested globally in research.  For more information, call 561-514-3020 or visit www.komensouthflorida.org.
About the Delray Beach Downtown Development Authority
The Delray Beach Downtown Development Authority mission is to stimulate, enhance and sustain the economic vitality of Downtown Delray Beach and the quality of life enjoyed by locals and visitors.  For more information, please visit www.downtowndelraybeach.com or phone 561.243.1077.
###
Media Contact:
Jennifer Martinez
JLM Communications
Jennifer@jlmcommunications.net
(561) 301-4998