Spicy flavors that warm the heart and refreshing drinks that soothe the soul...  Downtown Delray has got you covered for Cinco de Mayo! 
This year, Cinco has gone curbside with pick up and delivery options from many of the Downtown Delray Beach restaurants.  Looking for some festive options to celebrate at home?  Check out our Cinco de Mayo Downtown Delray guide: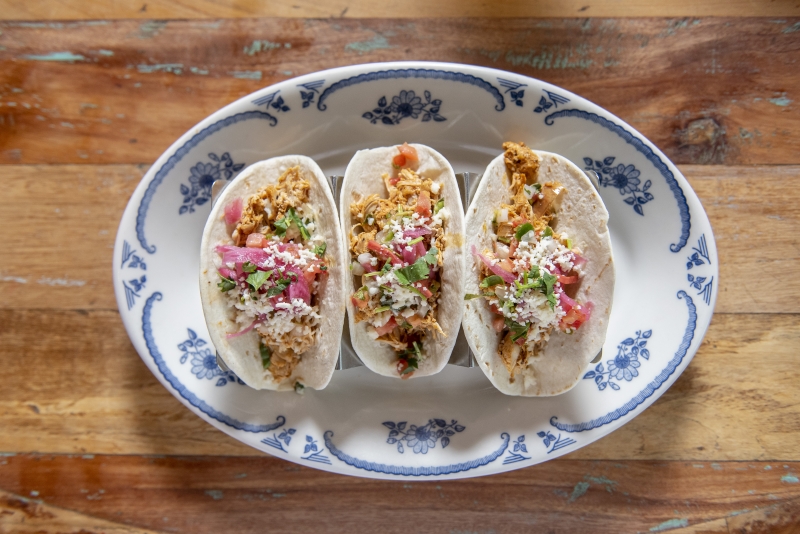 Rocco's Tacos and Tequila Bar, 110 E Atlantic Ave, downtown Delray Beach
Rocco's Tacos will be offering guests a Cinco de Mayo celebration from home with tacos and drink specials for online ordering, curbside pick-up and delivery. 
Cinco de Mayo special: Taco Box or Cinco Fiesta Box
Taco Box - 10 or 20 tacos starting at $45
Cinco Fiesta Box- 12 tacos (3 choices of protein), yellow rice and black beans, guacamole, salsa and Rocco's seasoned chips and churros for $65. Pre-orders for the Cinco Fiesta Box begin Thursday, April 30th. 
Of course, no Cinco celebration is complete without tequila and Rocco's is offering refreshing housemade margaritas or bottles of tequila for purchase, ranging from $25 to $55 per bottle. 
Cinco Fiesta Box pre-orders start Thursday, April 30th. Orders can be placed at www.roccostacos.com for delivery or curbside pick-up on Cinco de Mayo May 5th. 
Open for lunch and dinner. Order online at www.roccostacos.com or by calling: 561.808.1100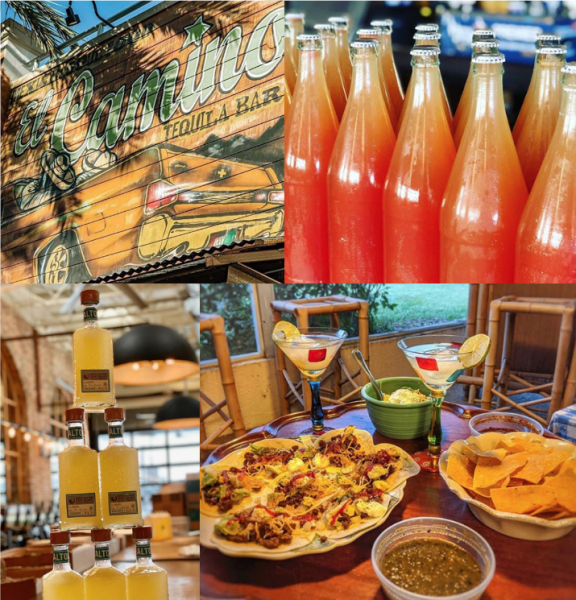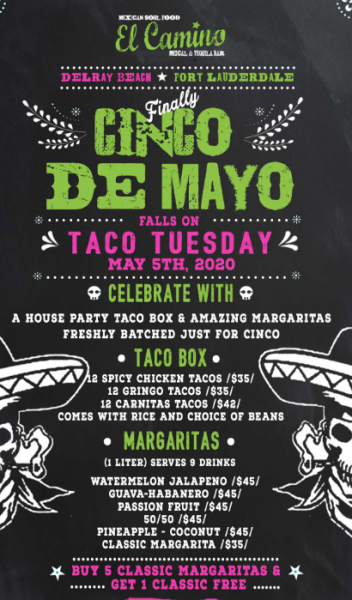 El Camino, 15 N.E. 2nd Avenue
Cinco de Mayo Special: Celebrate with a Taco Box and/or Margaritas!
Taco Box
12 Spicy Chicken Tacos | $35
12 Gringo Tacos | $35
12 Carnitas Tacos | $42
Comes with rice and choice of beans
Margaritas
(1 Liter) Serves 9 Drinks
Watermelon Jalapeno | $45
Guava-Habanero | $45
Passion Fruit | $45
50/50 | $45
Pineapple-Coconut | $45
Classic Margarita | $35
(BUY 5 CLASSIC MARGARITAS GET 1 CLASSIC FREE)
Call to order 561.865.5350 or find us on Delivery Dudes or Uber Eats!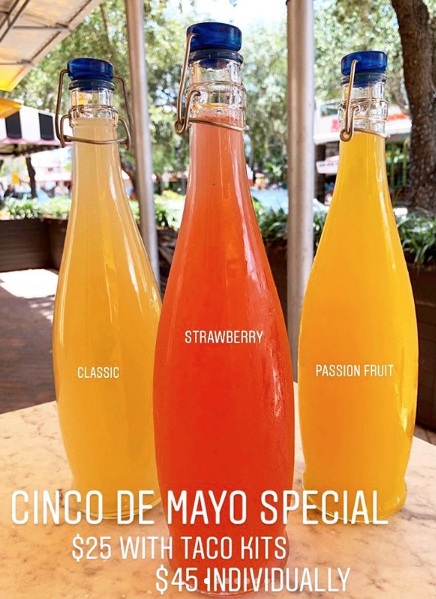 Cabana El Rey, 105 East Atlantic Avenue
Cinco de Mayo Special: Taco Kits and Margaritas
Taco Kits | $45
Choice of your filling (beef, chicken, shrimp), rice and beans, and churros 
Margaritas | Choice of Passion fruit, classic, or Strawberry 
($5 for a glass, $25 for a pitcher with the taco kit, $45 for a pitcher alone)
We will throw in a complimentary cabana hot sauce with your order!
Order now through delivery dudes, by phone 561. 274.9090 or on our website https://www.cabanadelray.com/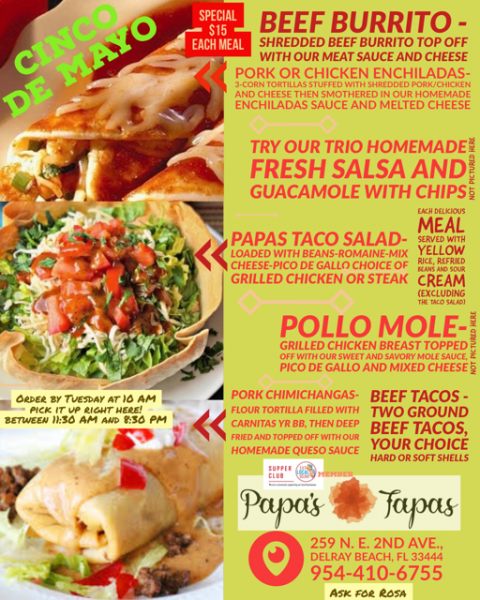 Papa's Tapas, 259 NE 2nd Ave, downtown Delray Beach
Cinco de Mayo Special:  $15 for each meal including yellow rice, refried beans and sour cream - Beef Burrito, Pork or Chicken Enchiladas, Homemade salsa and guacamole with chips, Papas Taco Salad, Pollo Mole, Beef Tacos and Pork Chimichangas
*Place order by Tuesday May 5 at 10am, pick up May 5 from 11:30am-8:30pm.
Call 954-410-6755 to place order.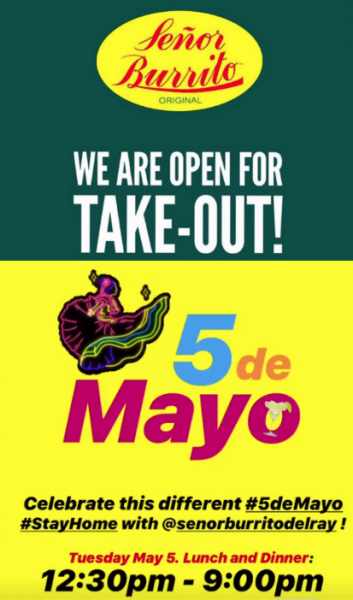 Senor Burrito, 142 SE 6th Ave
Cinco de Mayo special:  Celebrate Cinco de Mayo with us!  Offering take out LUNCH and DINNER!
Margarita TO-GO Pitchers Special $18
Made to order Guacamole and all of your favorites at Senor Burrito (FULL MENU available for take out) 
Open 12:30pm-9:00pm.  Call 561-278-5757 to place your order.  
Salt 7, 32 SE 2nd Ave, downtown Delray Beach
Cinco de Mayo special:  Taco Tuesday Home Kit
For 2 people - $30  |  For 4 people - $60.
Taco Kit includes the following:  Ground Beef(Raw), hard and soft taco shells, taco seasoning, shredded lettuce, grated cheese, sour cream, homemade salsa, homemade guacamole, and add a quart of margarita mix that comes with limes and salt and serves 6 people for $29.
Available every Tuesday including Cinco de Mayo.  Call 561-274-7258. For more information, click here.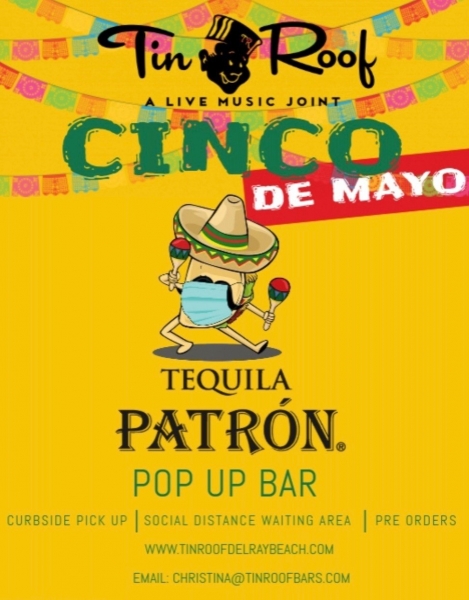 Tin Roof, 8 East Atlantic Avenue
Cinco de Mayo Specials:
$4 Tacos
1 TACO + 1 PATRON MARGARITA + 3 TACOS $12 
CHIPS & QUESO + 3 TACOS + 3 PATRON MARGARITAS $35
FIRST 10 ORDERS ARE FREE!!
Available Tuesday May 5th 5pm-9pm
Pre-order in advance by emailing 
christina@tinroofbars.com
 and include the day, time, food & beverage items and car make, model & color if you're doing curbside.  During our operating hours, please place your order by phone at (561) 265-5310 or 
ORDER ONLINE HERE
.
Pick up your order on our sidewalk or pull directly in front of us on Atlantic Ave, call us, and we'll bring it to your car! 
*All CDC sanitation & distancing recommendations will be followed.  See ya at the Roof....to go!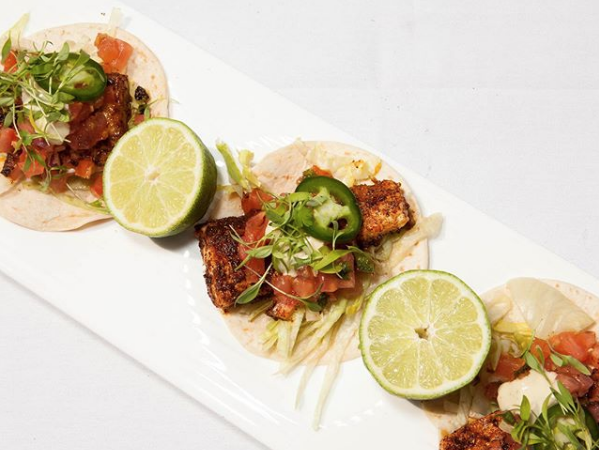 The Office, 201 E Atlantic Ave
Cinco de Mayo Special: Taco Box or Bundle Package
Taco Box
6 Tacos | $14 | Fish, Ground Beef, Shrimp or Chicken
Bundle Package
6 Tacos + Patron Margarita or Milagros Tequila Bottle | $44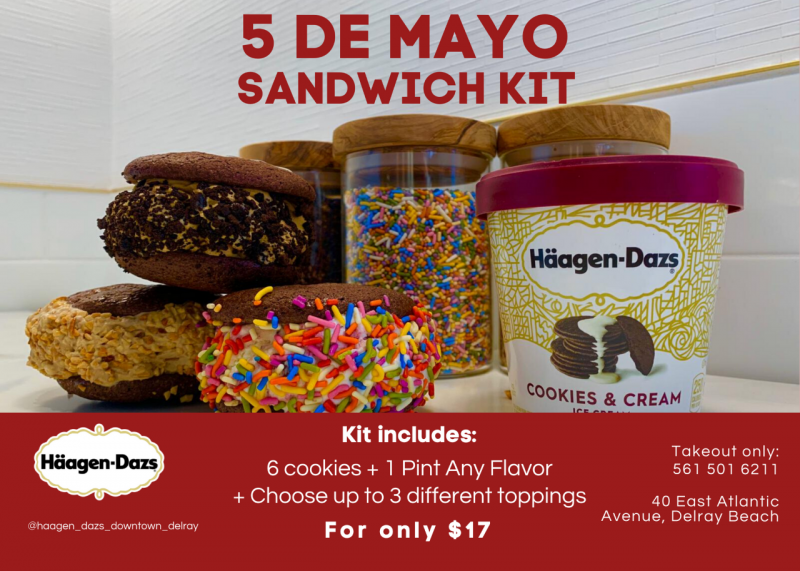 Haagen-Dazs, 40 East Atlantic Avenue, downtown Delray Beach
Cinco de Mayo special:  5 De Mayo Sandwich Kit 
Kit includes:  Six cookies, 1 pint any flavor, choose three toppings for $17
Valid from May 1 to 30. Takeout only – call 561-501-6211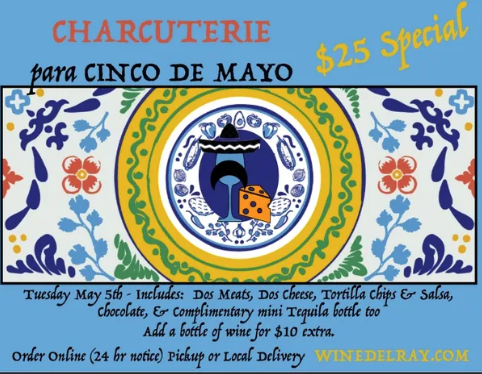 Wine House Social, 104 NE 2nd Avenue, Delray Beach, Florida 33444
Cinco de Mayo Special: Cinco Charcuterie DIY Special- includes 2 meats, 2 cheeses, Salas and Tortilla strips, a Mexican chocolate for dessert, and a complimentary Jose Cuervo Especial Blue Agave mini Tequila bottle for $25. Add a bottle of Pebble Lane wine (Cabernet, Pinot Noir, Chardonnay or Rose) for $10 dollars extra.
Order online
here
.  Must order 24 hours ahead. Pick up or local delivery available on May 5th.
We hope you all have a safe and delicious Cinco de Mayo! This guide will continue to be updated so don't forget to check back for updates, as more downtown (virtual) fiestas are planned!