Description
Thank you for another amazing year of Savor The Ave! Please take the attendee survey to give us your feedback on the event:

This signature tradition of dining under the stars down the middle of Atlantic Avenue was held on Monday, March 28, 2022 for its 13th year!  Featuring a four-course legendary downtown Delray Beach dining experience.
PARTICIPATING RESTAURANTS: (CLICK THE NAME TO SEE THE MENU): 
Each year the restaurants compete for best in show with table decor. This year's winners are:
First Place: Salt 7 
Second Place: Rocco's Tacos
Third Place: Vic and Angelo's 
See the photo gallery for a view of the table scapes and themes they were all truly amazing!! 
**SAVE THE DATE FOR SAVOR DAY 2023 
Tentatively set for Monday, March 27, 2023 - Reservations will open up on FEB. 1, 2023
Apart from the service for this event , the restaurants are still providing their regular menu inside their spaces. So either you're on the street or inside the restaurant, come downtown and enjoy this marvelous atmosphere!
Right on the street, outdoors on E. Atlantic Ave., at tables stretching from Swinton Ave. to East Fifth Ave./U.S. 1. #OutsideDining
WHEN
Monday, March 28, 2022 from 5:30 pm - 9 pm.
Rain Date: Tuesday, March 29, 2022
WHO IT BENEFITS:
The award-winning
EJS Project
, launched by local man Dupree Jackson in part as a result of his own experience with family drug abuse, racism and injustice, is committed to creating opportunities for Delray at-risk youth. Named in honor of his father, Emanuel Jackson, Sr., the EJS Project "is dedicated to teaching truth, challenging systems and fighting for its youth's access to opportunity," Jackson says. EJS has five main programs that support and engage at-risk students ages 12 to 19 who live in low-income households primarily in The Set, and are largely Black and Haitian. These programs range from engaging students in City Commission meetings, with the Delray Beach Police Department, and other local initiatives. EJS youth also plan and organize activities to support beautification efforts in The Set, include students on organizational planning committees as well as quarterly reports to the Community Redevelopment Agency, and more. Students also participate in weekly "Community Conversations" around race equity, leadership and positive impact strategies with local leaders and professionals.
HOW YOU CAN GO:
Reservations must be made directly with the participating restaurant of your choice. Menus will be listed online at bocamag.com/Savor-The-Avenue-2022 or DowntownDelrayBeach.com/SavorTheAvenue or at the restaurant. But you have to act fast; when reservations open up seats go quickly, and the event is usually sold out. Reservations reserved with a credit card depend on each restaurant's policy.
SAVOR THE AVENUE 2022 SPONSORS:
SILVER SPONSOR: Nancy Chanin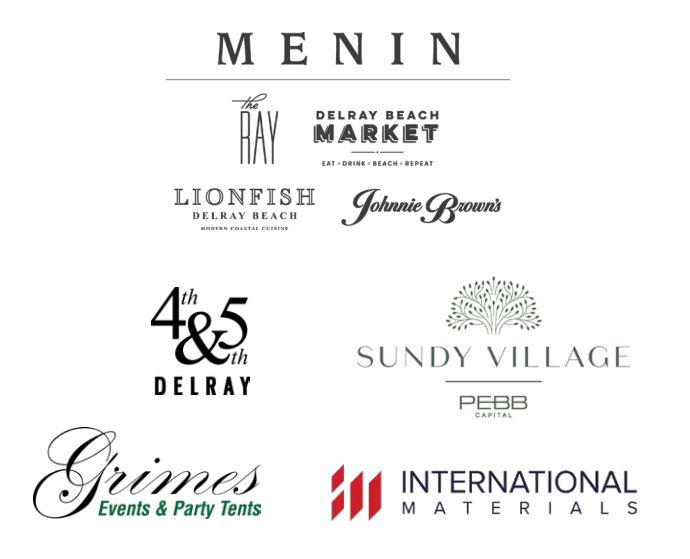 4th & 5th Delray, Menin Development, Inc., Grimes Events & Party Tents, Pebb Capital - Sundy Village, International Materials, Inc.
Interested in becoming a Sponsor for Savor the Avenue?  Contact us dda@downtowndelraybeach.com View Savor the Avenue Sponsorship opportunities here: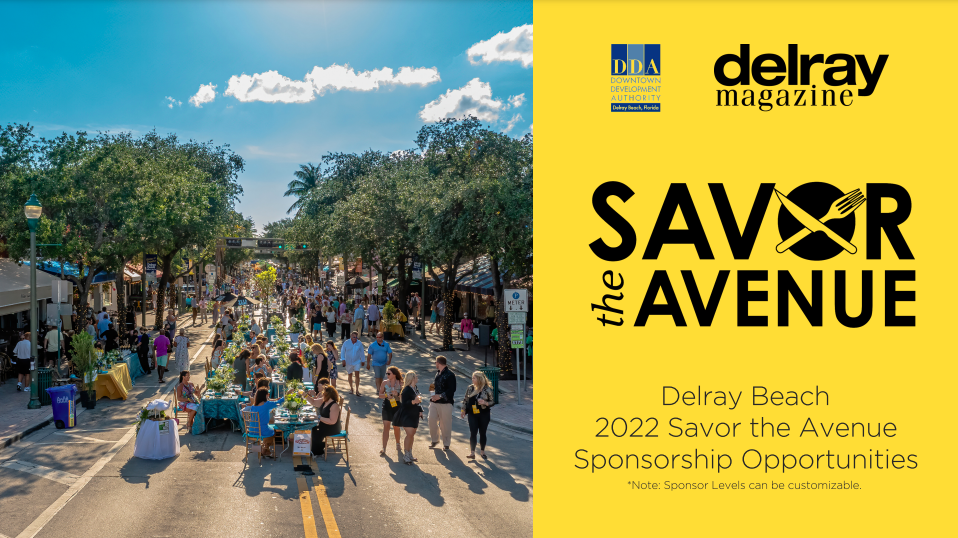 Produced by Downtown Development Authority of Delray Beach, FL, Delray Beach magazine and Boca magazine.
East Atlantic Avenue in Downtown Delray Beach
Delray Beach
,
FL
33444